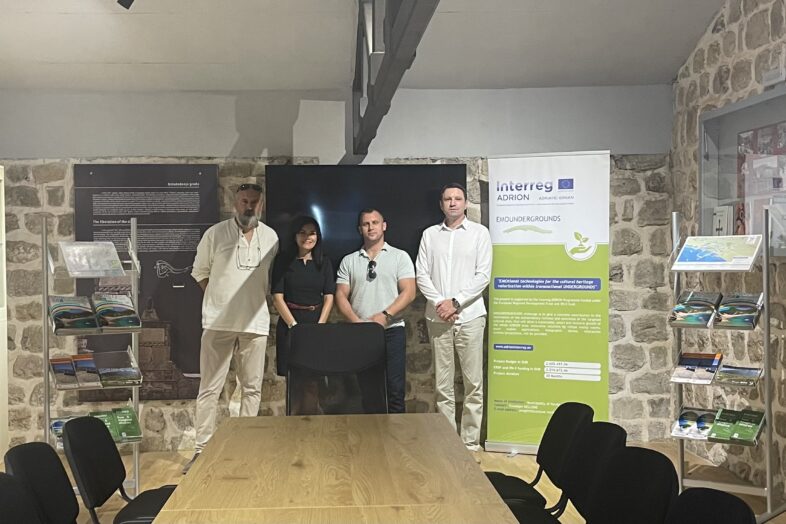 TO Bar u okviru projekta EMOUNDERGROUNDS kupila kancelarijski namještaj za Arhiepiskopsku palatu
Turistička organizacija Bar je u okviru projekta EMOUNDERGROUNDS, kupila kancelarijski namještaj za Arhiepiskopsku palatu,  u svrhu održavanja radionica i prezentacija,  koji će za cilj imati bolju turističko-kulturološku valorizaciju Starog grada Bara. Projekat se implementira u okviru Interreg V-B Jadransko-jonskog transnacionalnog programa 2014-2020 (ADRION) i to u periodu 01.01.2020 do 31.12.2022. godine.
Projekat realizuje 10 projektnih partnera iz EU i IPA zemalja među kojima su osim TO Bar i i Opština Nardo i Opština Carpi (Italija), Opština Andravida–Killini (Grčka), Turistička zajednica grada Rijeke i Javna ustanova u kulturi Tvrđava kulture Šibenik (Hrvatska), Regionalni razvojni centar Koper i Opština Ivančna Gorica, Slovenija (Slovenija), Opština Kukes (Albanija) i Razvojna agencija Grada Trebinja (BiH). Pridruženi partner na ovom projektu je Kulturni Centar Bar.
U okviru projekta se do sada radilo na prikupljnaju matrijala o pet istorijskih atrakcija unutar zidina Starog Bara, snimanja tih lokacija u 3D tehnologiji, izrade regionalnog akcionog plana o valorizaciji 10 lokacija koje se nalaze u partnerskim zemljama projekta.
Do kraja projekta predstoji izrada Mobilne aplikacije koje će prezentovati pomenute atrakcije na jedan drugačiji način, pristupačan "smart" korisnicima. Nabavka elektronske opreme (digitalnog panela, projektora sa platnom, web hardvera), organizacija radionica na temu bolje i drugačije valorizacije Starog Bara, organizacija tri događaja (okrugli sto, pozorištna predstava i koncert).
Predviđeni rezultati projekta su sledeći:
Nova MREŽA TRANSNACIONALNE SARADNJE među KREATIVNIM OPERATORIMA KULTURNOG TURIZMA, TRANSNACIONALNI AKCIONI PLAN za sprovođenje bolje valorizacije turističkih destinacija ADRION regije, TRANSNACIONALNA STRATEGIJA za pametno, održivo i inkluzivno upravljanje ciljnim lokacijama, 10 INVESTICIJA MALIH RAZMJERA kao pilot primjene tehnoloških, multimedijalnih i interaktivnih instalacija za upravljanje, uživanje i unapređenje kulturnih mijesta, organizacija 30 međukulturnih događaja.