Flora and fauna
The municipality of Bar is characterized by a very diverse flora and fauna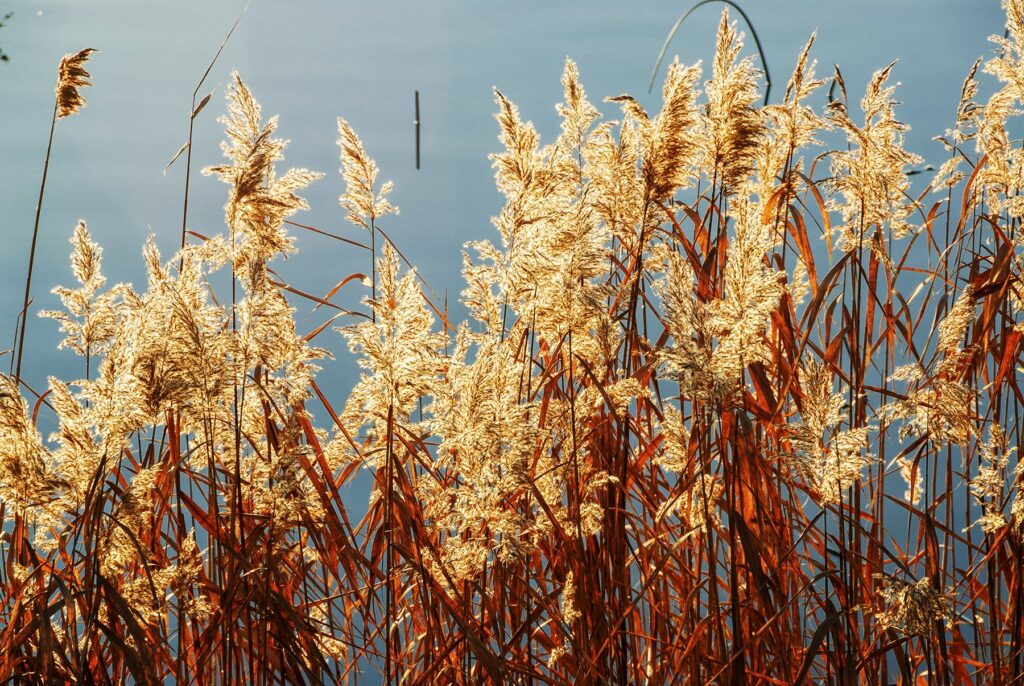 The municipality of Bar has a healthy and preserved environment, free of pollutants, which makes it extremely attractive.
The coastal part is dominated by macchia, which consists mostly of holm oak, laurel, Spanish broom, oleander, hawthorn, blackthorn, Jerusalem thorn, butcher's-broom and asparagus. Towards the north, in the direction of Sutorman, Lisinj and Rumija mountains, oak-beech forests are most common. Citrus (tangerine, orange, lemon), pomegranate, olive, fig and grapevine are typical features of Bar. The Old Olive Tree on Mirovica and the ginkgo biloba tree in the park of King Nikola's Palace are considered to be tourist attractions.
Attractive locations such as Sozina, Rumija, Lisinje and Sutorman are rich in wild animals, mostly rabbits, badgers, foxes, wolves and wild boars.
Marine fauna and flora are a special treasure of Bar. The littoral zone is dominated by various species of shellfish, snails, echinoderm, cephalopods and crustaceans, which have quality and healthy meat.
Various, rare and autochthonous animal species of fish, reptiles, birds, mammals and invertebrates live in the aquatic ecosystems of the municipality. Considering the richness of species, especially ornithofauna, the most significant is the basin of Skadar Lake, which is inhabited by about 280 species of birds. Due to the rich and unique habitat of waterfowls, the Ramsar Convention included it in the World List of Wetlands of International Importance.  
The shore and water surfaces of Skadar Lake are covered with lush vegetation. There are many species (as many as 930 species of algae), many endemics that confirm the youth of the lake. The surface is inhabited by white and yellow water lily, water chestnut, a plant that lives only on Skadar Lake. Its unique nature is also reflected in the fact that despite living in water, it needs rain to grow fruit. Reeds, water mint, etc. grow from the bottom but come out on the surface, while all kinds of flora remain in the water, on a shallow and muddy bottom, in mutual harmony and showing a lot of understanding for the swimmers. There are 48 species of fish in the lake basin.
Carp (a species of bitterling) and bleak (small fish) live only here and nowhere else in the world. It has been noted, for instance, that the export of bleak to Italy was very developed in the thirteenth century. Smoked carp is a specialty whose taste is impossible to forget, especially when combined with the taste of the famous Crmnica wine. There are also guests: in addition to freshwater fish, the lake is occasionally inhabited by marine species, eels, twait shad, mullet, and flathead grey mullet.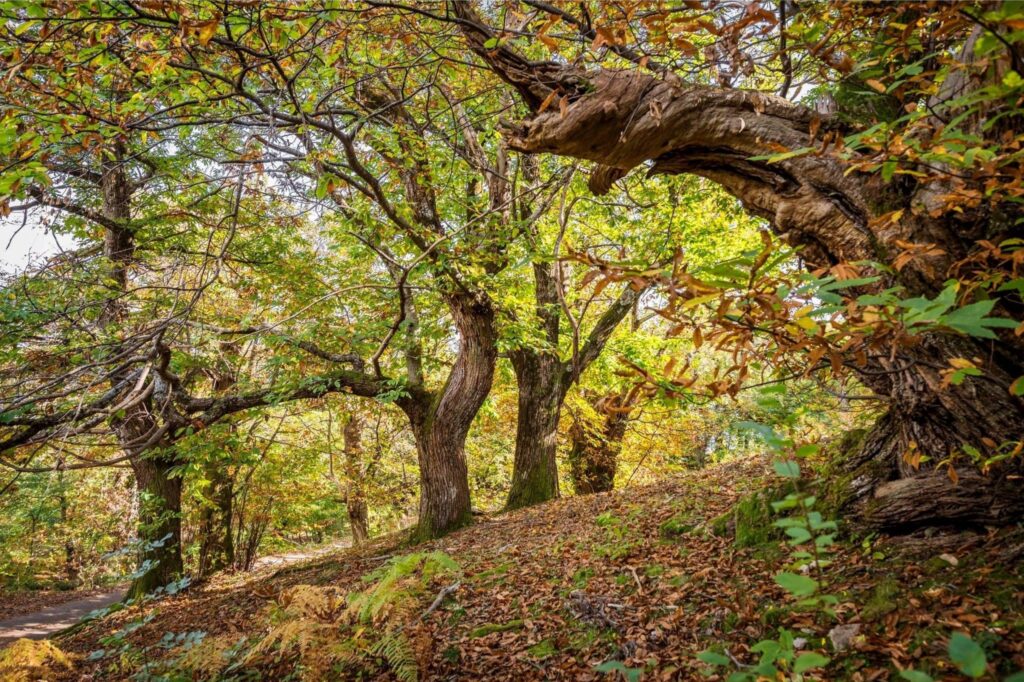 A quality domesticated chestnut grows in the wider area in and around the village of Koštanjica, located next to the local road Virpazar – Ostros which winds along the shores of Skadar Lake. Rich in chestnut forest, Koštanjica is well known for its "Chestnut Festival" (Kestenijada), which is held every year at the time of ripening koštanje, as it is referred to by the native population. During this unique event, visitors can enjoy numerous chestnut creations and taste rare specialties made of roasted and cooked chestnuts.
It is believed that the pomegranate originates from the area of ​​former Persia, from where it spread throughout the entire subtropical area. Pomegranate, šipak, morganj, kalinka, has been grown since ancient times in Montenegro, and together with figs and olives makes one of the oldest cultivated species. Pomegranate in the vicinity of Bar is known for the quality of its fruit, and it has long been an important export item. Several varieties are grown in the Montenegrin subtropical zone. The most common type of pomegranate is "sweet pomegranate of Bar" (over 80 percent).
Domesticated pomegranate juice contains 13 – 15 percent of sugar and 0.3 – 3.3 percent of organic acids. It also contains fibre, vitamin C and other ingredients. It is used for fresh consumption. Wild rose hips are the raw material in the production of juice syrups. Pomegranate juice is delicious, extremely beneficial and helps fight many diseases. According to traditional belief and centuries-old experience, the medicinal fruit peel is used for making tea for dysentery. If dried and chopped, it stops bleeding and suppresses intestinal parasites. It is also used for tanning the skins due to the abundance of tannin. Pomegranate flower gives bright red colour.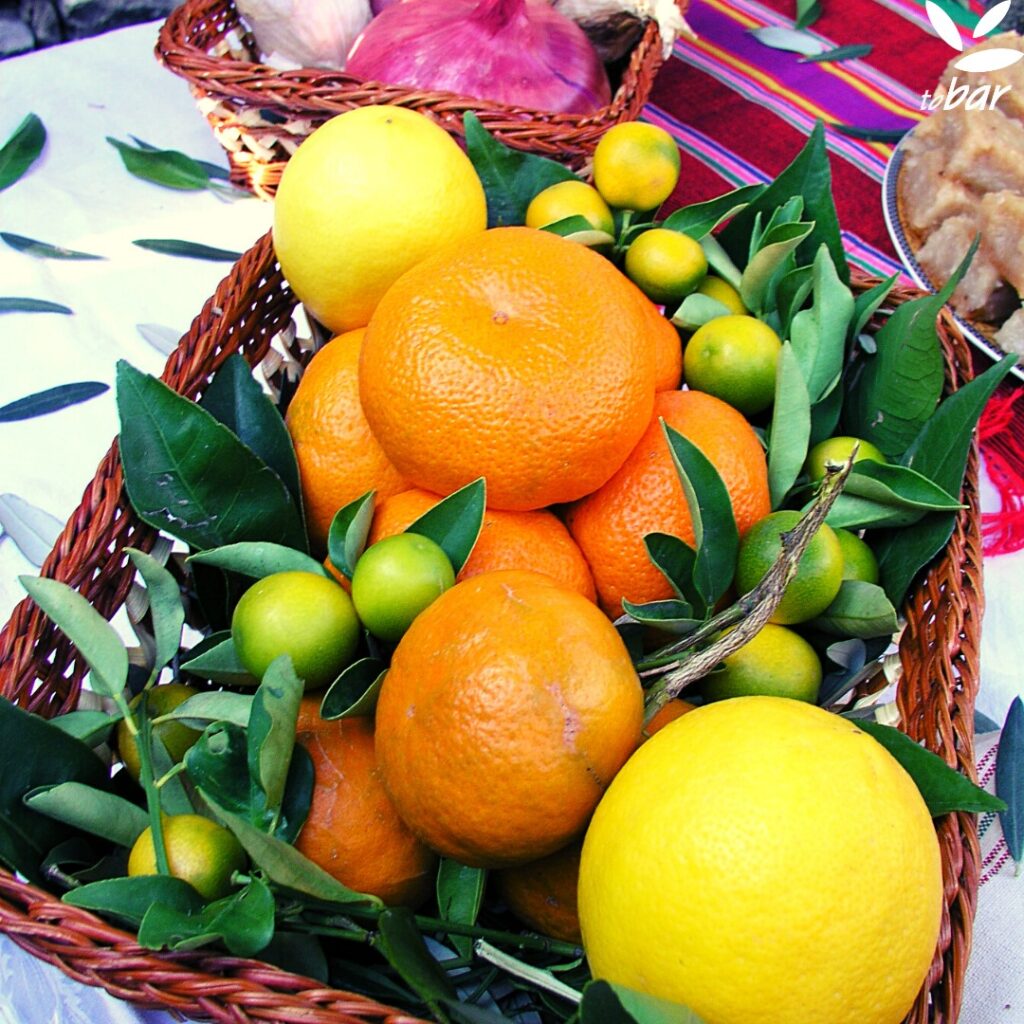 Bar is also known for its plantations and cultivation of southern fruits, mostly lemons, oranges and tangerines. There is a so-called well-known Bar autochthonous type of orange from which a delicious juice is extracted. Citrus is mostly cultivated in southern settlements along the coast, and grow most fruit in shaded areas, where the microclimate allows the cultivation of citrus fruits without major cold threats, such as Gorana, Dobra Voda, Zaljevo, Stari Bar, Sutomore and others settlements.  
The cultivation of some types of citrus fruits was known in the 15th century on the Montenegrin coast, with the arrival of the Venetians and later the Turks, but it was not relevant for the economy for a long time. Citrus fruits were mostly grown as single and ornamental trees in gardens, and in some locations there are lemon and orange trees which are more than 100 years old. Tourists can taste this quality fruit at local markets and restaurants.
Montenegro is well known for its wild beauty, ecosystem and intact nature, and Bar is well known for a large number of sunny days – more than 270 sunny days a year. That is why almost all localities in the municipality are rich in a variety of medicinal plants. Trained and certified pickers collect them along the shores of the sea and lake, as well as on the slopes of all Bar mountains: Rumija, Sutorman, Lisinj, Sozina, etc. The best known and most frequently used medicinal plants are: yarrow, Breckland thyme, mugwort, common nettle, elder, etc. All plants are collected on the peaks and the mountain slopes where nature is intact and far away from all forms of pollution and traffic.
Vrsuta, a home to more than 500 registered plant species, of which 57 are endemic and eight are rare and protected species, is particularly valuable and rare. The most important among them is Gymnospermium scipetarum, which lives only on Vrsuta and nowhere else in Montenegro. This plant is a hidden treasure of Bar. It is rare and lives in a limited area of ​​150m². It would be a unique experience for nature lovers to see this plant.
Wormwood, which grows from Shkodra to Ston, is known for having the best medicinal properties in the world. In recent decades, awareness of the values ​​of organic plants in terms of health has increased. Until the 1990s, Montenegro was a leader in this business in this part of Europe through two companies – Bar bilje and Eksportbilje from Risan. Over 4,000 tons of medicinal herbs were exported from Montenegro annually. During the eighties, several thousand families lived or had additional income from collecting medicinal plants in Montenegro. In addition to Montenegro, the two companies bought plants from Albania, Herzegovina and Dalmatia.