Activity holiday in Bar
The municipality of Bar is the right choice for all lovers of activity holidays, who are looking for a special experience in rare and unique locations.
A warm and clean sea offers possibilities for various activities such as: sport fishing from land or on the open sea, sailing, exploring the rich underwater world with hidden reefs and caves, but also archaeological sites and shipwrecks. For those who are not into strenuous activities, there is a cruise along the coast and guaranteed enjoyment of the view and gastronomic specialties.
Skadar Lake and its surroundings are considered an ideal destination for an activity holiday: lovers of hiking and biking can enjoy beautiful landscapes and cultural property along tens of kilometres of marked hiking and biking trails throughout the year. There are also water sports: discovering lagoons, islands and fishing villages by kayak is a unique way to experience Skadar Lake, and warm lake water with mild wind in the open air blowing almost daily, make it an ideal spot for sailing. In the hidden lagoons, covered with reed, it is possible to go birdwatching, including rare and protected species.
Cruising the Adriatic Sea
Cruising the Adriatic along 46 kilometres, gives you the opportunity to enjoy the unique contrast of the sea surrounded by high mountains, sandy beaches, hidden coves, swimming in the crystal clear water, sun bathing and the cuisine rich with traditional seafood specialties.
Marina Bar is an ideal starting port for sailing through the picturesque Montenegrin coast, bays and harbours. It is located in the heart of Bar Bay, next to the town beach, and surrounded by quality tourist and infrastructural facilities.
There are also many taxi boats that offer full-day excursions, day and night rides and tours of beaches that can only be reached by sea, such as the Queen's Beach or the beach behind Volujica hill.
Cruising Skadar Lake
Cruising Skadar Lake is a breathtaking experience.
Cruising Skadar Lake is a breath-taking experience. The view of many small islands with medieval monasteries and rare bird species is a unique bond of history and nature. The fishermen's villages with an authentic architecture, beaches, coves and opulent vegetation, carp and bleak as local specialities, wine from Crmnica and loza brandy – make this region even more impressive.
Cruising Skadar Lake offers the opportunity to enjoy its natural beauty, wetland shores covered with reeds, water lilies and water chestnut, numerous islands – gorice (small hills) and cultural and historical monuments. Hidden beaches and swimming in the lake are an integral part of this adventure. The tourist offer also includes a ride on traditional wooden boats called čunovi. The view of numerous islands with medieval monasteries and rare birds is a unique blend of history and nature. Fishermen's villages with authentic architecture, beaches, bays, and diversity of flora add to the richness of this area.
The cruise on the lake is organized by licensed entrepreneurs. Ships depart from the port of Virpazar. Some entrepreneurs hire guides for natural and cultural monuments.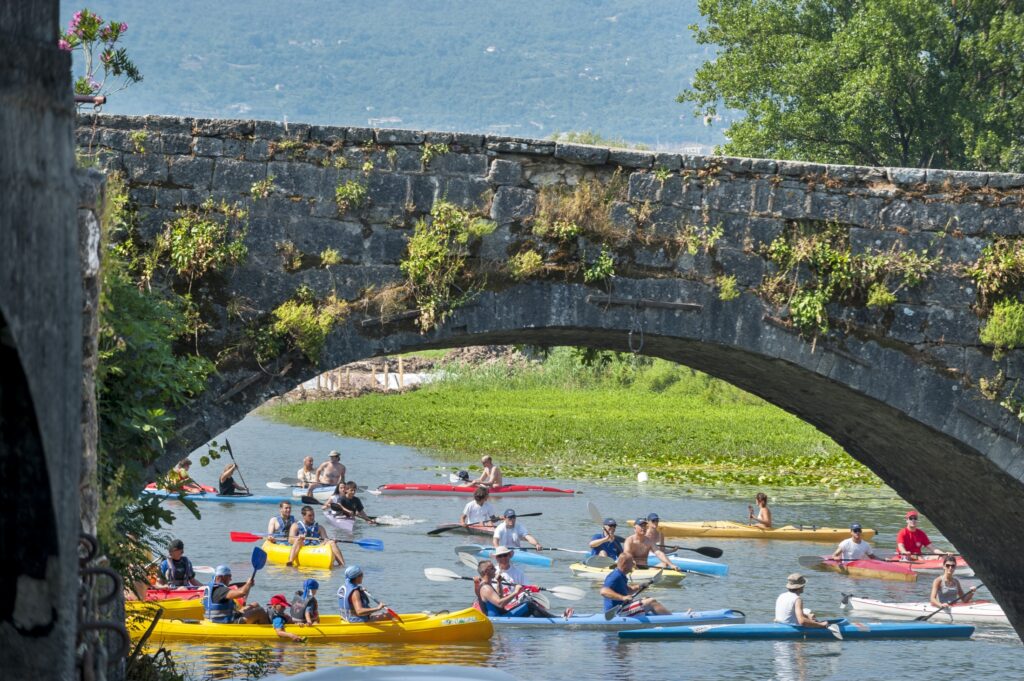 Due to the high water level, it is possible to do kayaking – the sport which includes outsmarting the river and its rapids, throughout the year in Montenegro, on the rivers Tara and Lim.
Apart from the rivers, you can do this dynamic sport along the Montenegrin coast, while kayaking on Skadar Lake is a unique experience.
While paddling on the lake you can explore the most intriguing and mysterious islands – gorice and unusual villages along the shores of the lake.
The circumstances for practicing sailing as a sport on the Montenegrin coast work in your favour: winds which create excellent conditions for practicing, sun and climate. Fifteen regattas are held during the year, mostly for memorial purpose. The most important one is the Montenegro Cup, a competition for small sailing boats which takes place in July. Local clubs provide classes or can arrange a sailing trip for guests.
Those wishing to add more excitement to their holidays will enjoy ideal sailing conditions with warm sea and lake water and a mild daily breeze
Hiking and walking fans will enjoy the beautiful landscape and the specificities of the cultural heritage down the dozens of kilometres of marked trails alongside Skadar Lake and the Adriatic Sea coast.


Volujica – Bigovica – 5 km
Sutomore –  Haj Nehaj Fortress- 2,7km
Sutorman – Vrsuta – Sutorman – 3,3km
Sutomore – Sozina – PPT – 7km
Limljani – Klisići – Sutorman – 11km
Old Bar – Kajnak – Džidžarin – Rikavac Bridge – 6,5km
Podgor – Virpazar – 13km
Along the coast of Krajina through olive groves – 7,7km
Along Sutorman riverbed – 4,1km
Lunj – Lisinj or Mikulići – Lunj – 12km
Bijela skala – Pinčići – Murići – 6,5km
Bijela skala – Gornji Šestani – Đuravci – 7,3 km
Zupci – Mužice – PPT (connecting with Coast-Mountain Transversal trail) –  6 km
Šušanj – Gornja voda – Vučja spilja – Kolijevka – Sutorman – PPT – 9 km
Gornja Briska (Šestani) – Rumija  – 5,1km
Zabes – Godinje – 4,5km
Along Orahovštica river valley- 13 km
Old Bar – Baltina – 5,5km
Dobri do – Rumija – 4km
Tuđemili – Kunora peak – PPT – 2,5km
Viewpoint "Zekova glava" – 3,9km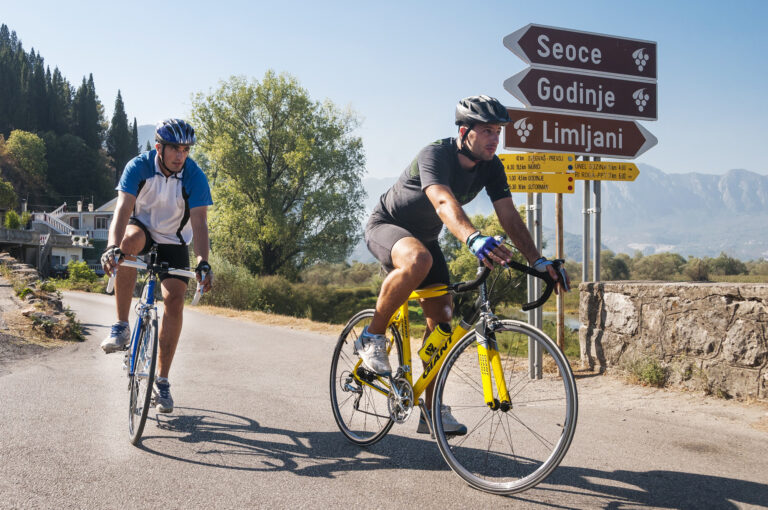 Cycling Tracks
Cycling tracks can be used all year round. Most of them are marked and thus easy to use by the tourists. They run through picturesque villages and areas with ample vegetation.
Rijeka Crnojevića – Virpazar – Ckla – 65km – 470m upwards
Rijeka Crnojevića – Karuč – 9,5km – 180m upwards
Virpazar – the field of Crmnica – Virpazar – 17,5km – 260m upwards
Virpazar – Limljani – Boljevići – Virpazar  – 20km – uspon 375m
Virpazar – Sutorman – Bar – 34km – 730m upwards
Dodoši – Žabljak Crnojevića – 10km – 10m upwards
Virpazar – Orahovštica / Opački bridge- 8km – 120m upwards
Bar has five canyons intended for all those who want to experience this adventure activity while simultaneously enjoying the fascinating landscapes and direct contact with nature. Those are five masterpieces of nature – unbelievably beautiful canyons with steep cliffs, gorgeous waterfalls and rivers that shaped them and gave them a soul.
Rikavac Canyon – It is located near Old Bar. There is a 10-minute walk from the place designated for parking cars to the canyon entrance. The canyon is one kilometre long and has 6 verticals.
Međureč Canyon – It is located 17 kilometres away from Bar. There is a 20-minute walk from the place designated for parking cars to the canyon entrance. The canyon is about 2 kilometres long, and it takes approximately 3:30 hours for a group of up to 5 people to travel through the canyon. It has 12 verticals, the highest one rising to 32 meters.
Vruća Rijeka – The entrance to the canyon is located about 30 kilometres from Bar. It is 7 kilometres long and can be accessed by car. It takes 10 hours for a group of up to 5 people to travel through the canyon. It is necessary to take on more than 30 verticals, the highest one reaching 22 meters. This canyon is recommended only for more experienced adventurers.
In addition, there are the canyons of Suva Rijeka and Nikezića potok which can only be visited by professionals. Vruća Rijeka, Suva Rijeka and Nikezića potok canyons are accessible only when the water level is high, while Rikavac and Međurečje canyons are accessible in the summer season.
Bird watching in Skadar Lake National Park
Skadar Lake, one of the most beautiful destinations with the most diverse bird world, is located in Bar. 
Skadar Lake is home to 280 species of birds, which makes up about 50% of the total number of European species, and is one of the richest wetlands in Europe. A rare specimen of the Dalmatian pelican is a symbol of the National Park.   
During the winter, birds from all around the world including western Siberia or Africa visit the Shkodra shelter. Even the very rare black African heron feels good here. The birds' paradise is diverse, with various species of ducks (wild, mallard, Eurasian wigeon, Northern pintail) and geese (graylag, Eurasian teal, northern shoveler) roaming, grebes, cormorants, herons, ibises walking around, eagles (Eastern imperial, lesser spotted, Bonelli's eagle, steppe), gyps vultures and bustards circling. European herring gull chose the lake island instead of the sea one as their nesting ground. The island of Omerova gorica, the only known colony of herons on laurels is located nearby.
The best time for birdwatching is winter or autumn, when large flocks of migratory birds fly over Skadar Lake. Those interested in birdwatching have to inform Skadar Lake National Park at least one day in advance. It is organized from čun or from the observatory platform in Raduš, which offers a unique vista of the lake's flora and fauna.
Diving is the best choice for those wishing to experience something new and venture into the opulence of the underwater world, turbulent history hidden in the underwater archaeological sites, numerous ship wrecks and reefs, and mysterious local caverns and unexplored caves.
The reef of the Royal Bay, which is great for beginners, and the Mikovića Cave for tourist diving, the hydro-archaeological site of Bigovica, the remains of a sunken ancient temple in the shallows of Maljevik Bay, the wreckage of sunken ships from different eras, are just some of the treasures of the Bar submarine, which are waiting to be discovered.
Bar's underwater treasure
Get ready to dive into the blue of the Bar's underwater and discover its hidden treasures