Bus stations in Montenegro
| | |
| --- | --- |
| Bar | 030 346 141 |
| Sutomore | 030 374 400 |
| Budva | 033 456 000 |
| Petrovac | 033 680 007 |
| Tivat | 078 118 738 |
| Kotor | 032 325 809 |
| Herceg Novi | 031 321 225 |
| Podgorica | 020 620 430 |
| Kolašin | 020 864 033 |
| Rožaje | 051 271 115 |
| Nikšić | 040 213 018 |
| Danilovgrad | 020 811 711 |
| Berane | 051 234 828 |
| Pljevlja | 052 323 114 |
| Mojkovac | 050 680 195 |
| Ulcinj | 030 413 225 |
| Cetinje | 041 241 754 |
Railway stations in Montenegro
| | |
| --- | --- |
| Bar | 030 301 615 |
| Sutomore | 030 301 692 |
| Podgorica | 020 441 212 |
| Nikšić | 040 211 912 |
| Kolašin | 020 441 492 |
| Mojkovac | 050 472 130 |
| Bijelo Polje | 050 478 560 |
Star taxi – 19744           Euro – 19701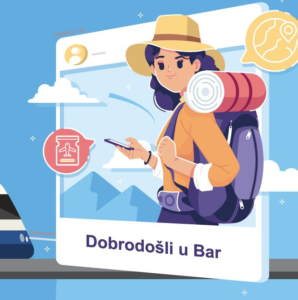 | | |
| --- | --- |
| To Montenegro  |   |
| Air Serbia – kancelarija Podgorica |  020 664 740           |
| Austrian Airlines – call centar | 020 653 350  |
| Turkish Airlines – info desk    |  020 653 033 |
| Pobjeda Moskva – branch in Tivat | 069 146 800   |
| Wizzair – customer service |  095 70 0003 |
| | |
| --- | --- |
| Airport Podgorica (TGD) | 020 444 244 |
| Airport Tivat (TIV) | 032 670 930 |
Marina Bar is located in the city centre and is surrounded by restaurants, cafes, shopping malls, green market, post office, banks, museums, and cultural and historical monuments.
Marina Bar has 250 berths on land – winter berths.
Vessels that have signed a contract for a permanent berth at sea have the possibility of wintering on land.
Crane service.
Marina capacity: 900 sea berths.
The berths are equipped with infrastructure: water connection, electricity outlet and 24/7 supervision and control.
Sea/land berth can be arranged by choice: annual, semi-annual, monthly, or as a combination of annual berth at sea and wintering on land – dry berth.
Marine Service/Service Information
Sea berth/dry berth services
Service hangar – Yacht service and boat engine service
Parking space for 300 vehicles
Gas station
Obtaining navigation safety information/weather forecast
Use of bathrooms and toilets
Regular supply of the piers with water and electricity
24/7 supervision and security
Free WI FI zone
 Daily berth
The amount charged for the daily berth is valid from the moment of arrival until 14:00h the following day.
Leaving daily berth must be reported by 14:00h on the day of departure.
Note: The prices of berths depend on the size of the vessel, as well as the time period during which they are rented. They range from EUR 1,533 for small vessels for one year to EUR 24,600 for vessels which are 40-50m long.
Reservations (Barska plovidba)
030 312 366 / 030 303 469
online@barplov.com
booking@barplov.com
Port of Adria

030 301 100

Port of Bar

030 300 400

Harbour Master's Office

030 312 733

Maritime Safety Department

030 313 240
030 312 240

Barska plovidba AD

030 303 300

AD Marina Bar 

030 315 166